About Our Architects & Designers
What are the best reasons to do business with Intra-State Terrazzo? So, if you're wondering what we do, and why you should consider our creative and comprehensive services, then we'd like to showcase the specific advantages to using our premium material brands. Check out this synopsis of our best brands for building and remodeling endeavors around Sarasota, Florida.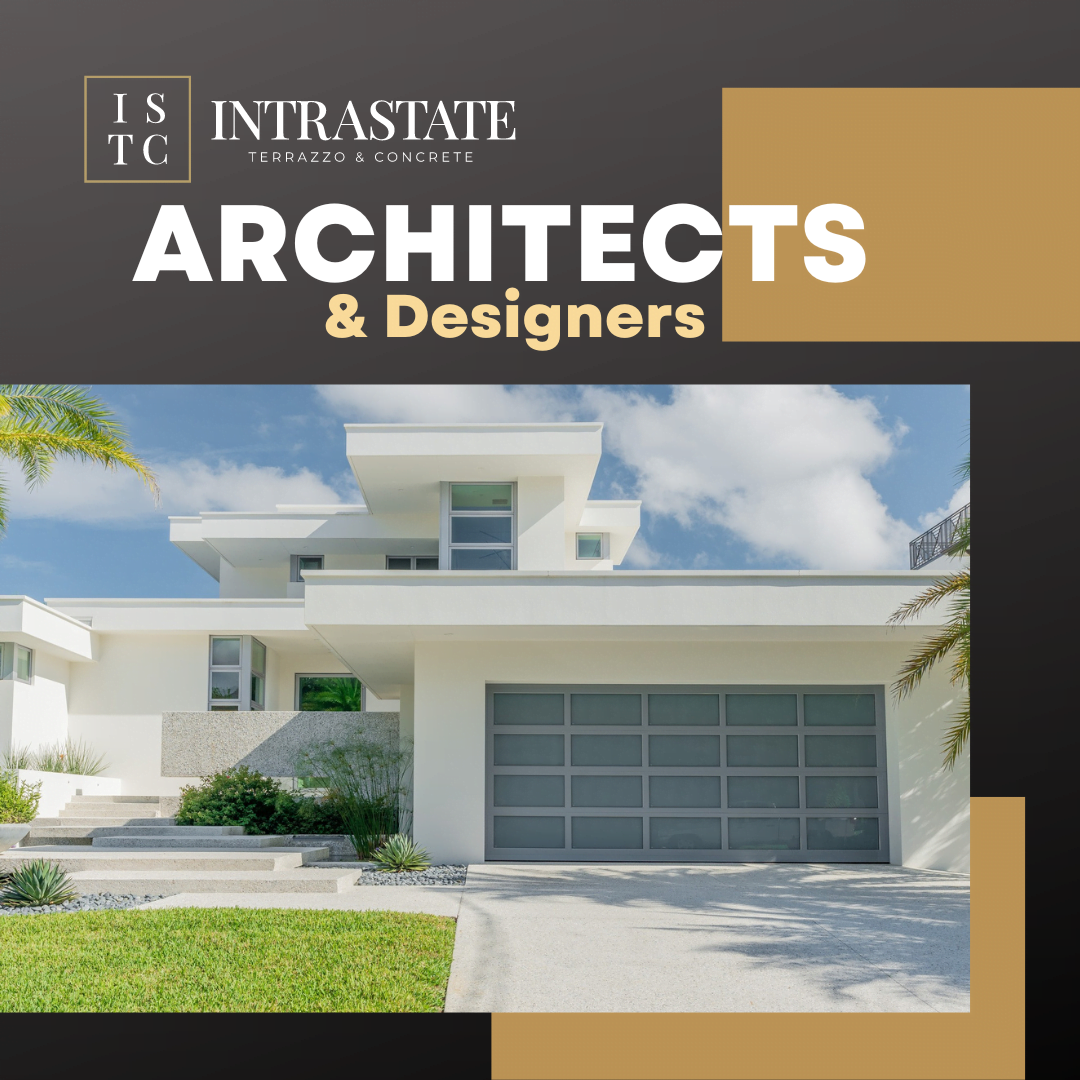 Why Should You Hire Intra-State Terrazzo?
If you're an architect, designer, or contractor in the southwest Florida area, you may have an interest in some of these outstanding materials we use.
Indoor Materials
Residential Terrazzo

We install

terrazzo

flooring for several purposes both inside and outside homes. Our clients enjoy redesigning their homes with this classic aggregate floor material, which matches well with many home decors, AND works well for slip resistance and overall durability.

Commercial Terrazzo

Businesses use Terrazzo as well because it's not only economical, but it makes a workplace look both professional and inviting. This includes everything from indoor walkways to outdoor sidewalks, parking lots, and much more.

Polished Concrete

Polished concrete

is very sanitary, has a long lifespan, doesn't scuff easily, and is simple to maintain. We've installed this for many commercial and industrial businesses who needed a permanent solution to their chipped or broken flooring.
Outdoor Materials
Shellcrete

Shellcrete

is a durable and beautiful way to build outdoor decks and patios. It's Portland cement component makes it a good match for homes that already use fiber-cement siding or fiberglass doors/windows. This is also one of the best replacement options for wooden decks because it actually deflects the heat from the sun, rather than overheating from absorbing it. Also, unlike finished wood products, you don't have to repaint or bother with lots of other tiresome maintenance.

Rustic Terrazzo

Once again, Terrazzo is the premier option for swimming pool decks or anywhere else a property owner wants to minimize slips and falls. Moreover, it lasts several decades, making it a popular purchase for the homeowners who are after long-term value.
You can also learn more about the other flooring materials we install by checking out the rest of our website. If you don't see something you like, you're still welcome to contact us with suggestions or to explore other ideas.
Intra-State Terrazzo assists architects, designers, and other contractors with outstanding floor installation and remodeling services. For further assistance, contact us anytime at 941-758-3104.
Got a question?  Need a quote? Fill out the form below and we will get back to you asap!